Why choose Orthodontext?
Orthodontext is a proven way to boost patient compliance.

Elastics Study
Compliance reminders have been shown to increase compliance by over three times! Reminders had a positive (3.7x) influence on the cooperation of patients regarding the use of intermaxillary elastics in the orthodontic treatment of Class II malocclusion. See study

Hygiene Study
According to this study, "If You Want Good Oral Hygiene in Your Patients, Text Them Every Day" and 97% of patients thought that text messages were helpful. Importantly, the patients themselves received the text message reminders, and the patients reported their preferences, not their parents. In an age when the majority of teenagers have a cell phone, this aspect of the study design is critical. See study

Testimonials
We are not surprised by the studies. Doctors, parents and patients using Orthodontext overwhelmingly report terrific results from our timely, fun and motivational compliance reminders. See our reviews below.
How does Orthodontext work?
Send the right messages at the right times to the right patient. Repeat!
Offer patients help
You now have a simple, repeatable solution to offer your patients in under a minute. That is probably less time then you spend now when a patient is non-compliant!
Select Reminders and Times
Explain the importance of compliance while selecting the appropriate reminder and desired times. Orthodontext reminders will motivate, trigger and reinforce the importance of compliance between appointments.
That's it!
That's it for the entire treatment period! Orthodontext will manage the reminders and forward all patient responses to the practice. Patients can stop any time without the practice once they have learned the new habit or finished the treatment. Happy Customers
Here is what they have to say...
"Orthodontext is an important tool in our toolbox to encourage patient compliance. The friendly, yet consistent reminders, delivered right to the patients' phones has been well received and helped many patients move their treatment forward."
"I am amazed at how a little digital nudge will influence compliance. Orthodontext is saving appointments in my practice and helping achieve better outcomes in less time.....well worth the investment!"
"It takes the 'nag factor' away from us and away from the parents. It is an amazing innovation that has helped our practice in many ways"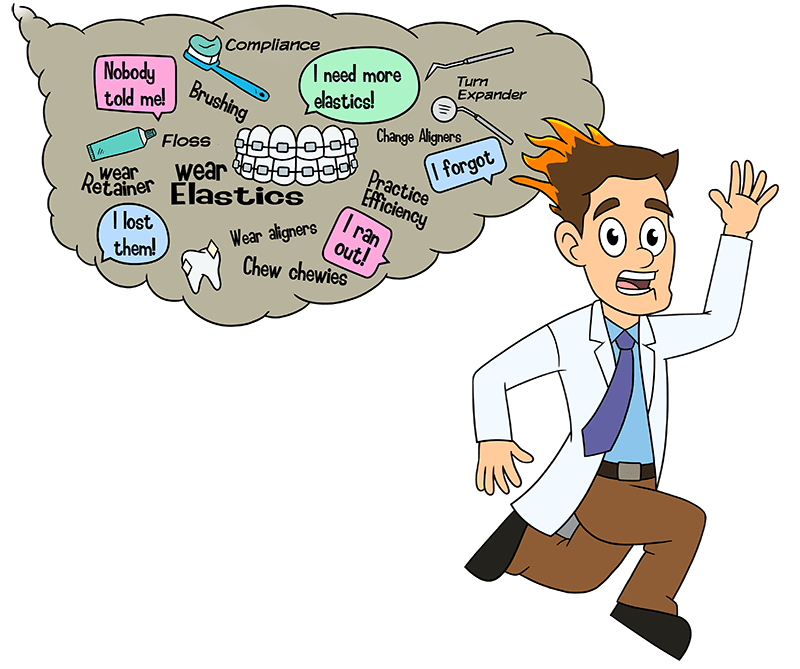 Why not put an end to this?
As an orthodontist, you know what a pain it can be to have to rely on your patients' compliance with home care routines.

If your patient falls behind schedule, forgets to use their elastics, or neglects to brush their teeth regularly, then your patients' plan could easily be drawn out far longer than it needs to, require more visits and they can end up with decalcification.

In some cases, where patients don't understand how their homecare affects their dental health, they may even blame it on you and leave you bad reviews!

Orthodontext keeps your patients on task without having to nag them.
We leave nothing to Chance
Patient compliance will improve.
Orthodontext works right out-of-the-box. We have libraries of reminders for elastics, brushing, aligners, retainers and more. You also can use our step-by-step guide to personalize Orthodontext for your practice.
Still have questions about Orthodontext or patient compliance in general? Schedule a free one-on-one walk-through with one of our consultants. We are experienced with helping practices with compliance. We are here to make sure your practice is successful with Orthodontext.
The learning curve for Orthodontext's one-step patient registration is minutes. In fact, many practices let the patient register themselves.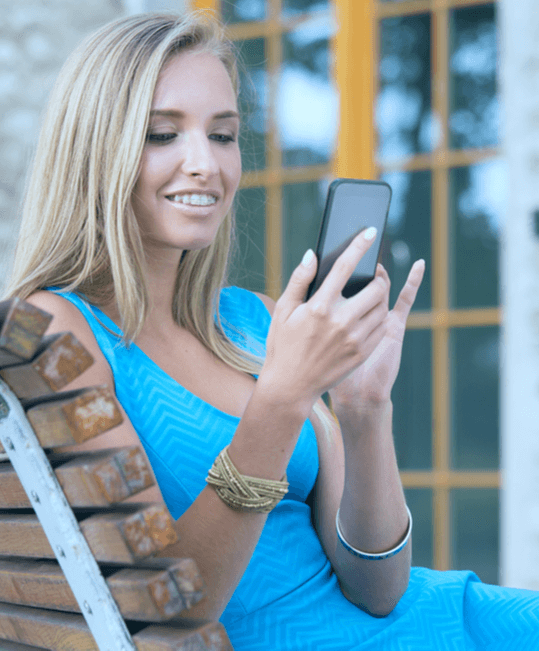 Frequently Asked Questions
Once you register you can schedule a free one-on-one walk through of the system.
Do my patients have to download an App?
No App download is required! That is the real beauty of the system. It just works. We found that getting patients to download an App and keeping it active is harder than getting them to wear elastics or brush.
Does Orthodontext connect to my PMS?
It is not necessary. This is not an appointment reminder system where schedules are changing all the time and PMS syncing is required. This is a register and forget system. There is a patient interface if a patient chooses to change a time. They can stop by just replying STOP.
Why do you require a credit card during the trial period?
The trial period is on us and we don't charge during that time but we need to verify all registrants are a valid Practice. The credit card is the only form of ID that we require and is an easy way to automate the verification.
Is there a charge for each text?
No. We charge a simple flat monthly fee. Patients should have an unlimited texting plan.
How many compliance reminders does a practice normally send?
It depends. An estimate is about 10x the number of appointment reminders a practice sends. Some Orthodontext practices send over 20,000 compliance reminders a month and don't even know it. For comparison, an appointment reminder system charges on average 5 to 7 cents per reminder ( $100 / 2000 appointment reminders per month ). If we charged that it would add up to around $1400/month.
How long is the contract?
We do not require a long-term contract. You can cancel any time by using the button in the subscription area or by contacting support. Try Orthodontext for 30 days, for free!
It's the all-in-one, easy to use and easy to set up solution. Get set up today!